Lately I've been re-organizing my craft space, although it seemed pretty organized to begin with, and I thought I'd share some more of my storage solutions. Starting with my Ribbon. I originally had all of my ribbon stored in a drawer on the little cards but hated that my ribbon had weird creases and such everytime I went to use it so I searched for a new Ribbon Storage Solution and came across Ribbon Ring. I'm still thinking of a better place to hang these but I love the bursts of color it gives my white walled craft room (one day I'll paint the walls).

See for yourself!





You can find out more about the Ribbon Ring Storage Solution by visiting
Ribbon Ring
.
Note: above is how I store my loose ribbon, I have my Bo Bunny Ribbon and Close to My Heart Ribbon stored in their original packaging. I also have spools of ribbon stored on a wall hung ribbon storage shelf.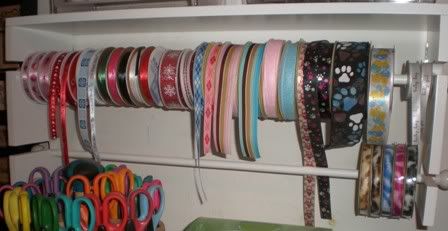 How do you store your ribbon?
Until next time!