I thought I would share my Copic Storage Solution for my Craftroom. These storage cubies were purchased from Kim @ Cutters Creek (I got them from her Yahoo Group) and I will say that they were the best purchase ever (I started with one then quickly ordered a 2nd before they were gone).

Anyway, I love how sleek they look and the little drawers are perfect for airbrush or re-filling supplies.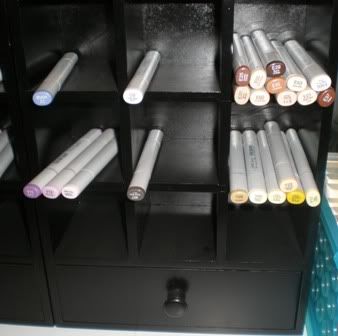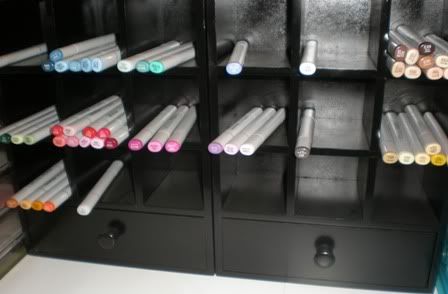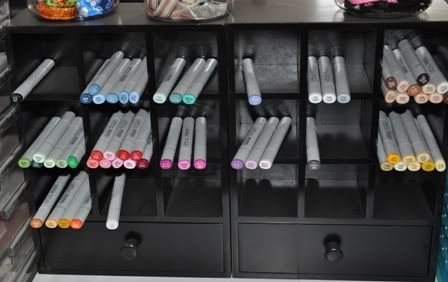 For my On-The-Go Copic Storage Solution, I used an extra Close to My Heart Stamp Storage Case (purchased from me, lol). They fit perfectly and the case has a lid and handle so you don't have to worry about the case tipping over and your markers going everywhere. I read on another Blog that someone had 160 in one case - I'm only at 90 so I can't confirm as to how many can fit.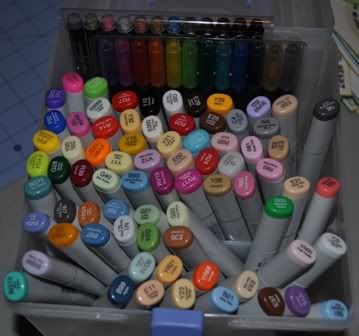 My next goal is to purchase the airbrush compressor - save...save...save!
UPDATE:
Purchase Complete - now for it to arrive.....
Whether in your Craftroom or On-The-Go, how do you store your Copics?
Until next time!