First, I apologize for the aweful photos. I'm working on getting a new camera.

Anyway, I created this card as a challenge in a Card Swap. We had to incorporate the patterned paper into a birthday card. Here is my result:


For this card, I used:
~ Cardstock
~ The "Challenge" Patterned Paper
~ CTMH Piece of Cake Stamp of the Month (February) Stamp Set
~ SU R... Cardstock
~ SU R... Ink Pad
~ SU Old Olive Ink Pad
~ Creative Memories Tag Maker Punch
~ Hobby Lobby White Brads
UPDATE! I have a new camera now! Yay. Here is a better close up photo: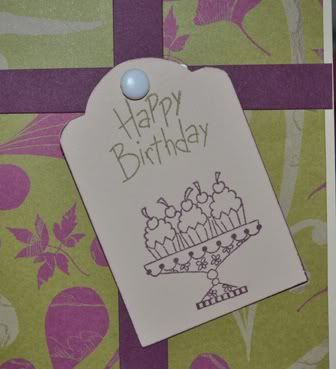 Wow, can you see the camera difference???
Until next time!