Today is National Scrapbooking Day. Forget about the house chores and get your Scrapbooking On!

Today, I'll be crafting away at an all day crop in celebration of this crafty day! Hopefully, I'll have tons of projects to share once the day is over.

In celebration, I created this card with the new Ms. Scrapbook My Acrylix Stamp Set from the 2010 Summer Idea Book.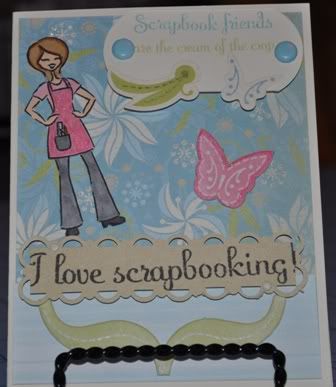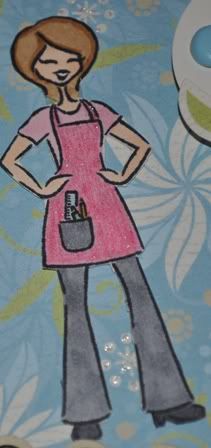 Items used for this card:
~ CTMH Ms. Scrapbook My Acrylix Stamp Set
~ Leftover scraps from the CTMH
Miracle Kit
(die cuts, B&T duos, and cardstock)
~ CTMH Sweet Leaf, Blush, and Crystal Blue Ink Pads
~ 1/4 of a CTMH sponge for inking the coordinating die cuts from the Miracle Kit
~ CTMH Crystal Blue & Colonial White Brads
~ Copic Sketch Markers for Ms. Scrapbook
~ Spica Glitter Pens for added "pop" (used on Ms. Scrapbook's apron, the pink butterfly, the green leaf on the sentiment, and parts of the card background)
~ Border Punch
Enjoy the day!
Until next time!