I finally finished a full book - well minus the pictures and filled in journal spots. Anyway, I created this for Father's Day 2010, I plan to give it to my Dad.

I'm still learning techniques and such on my own so I enjoy starting out with project kits in order to get a feel for everything scrapbook related. For this book I used a Bo Bunny DAD Class Kit that I purchased on eBay. It included a variety of Bo Bunny items that coordinated perfectly. The Class Kit only provided ideas for the DAD portion of the book but left out the last part of the book that didn't include any letter but just a blank chipboard page. I decided to try being crafty on my own and create the final page so there would be more room for photos or other memorbilia.

I'll update this post once I add in the photos of other items so you can see the complete finished product.

Here is the book thus far: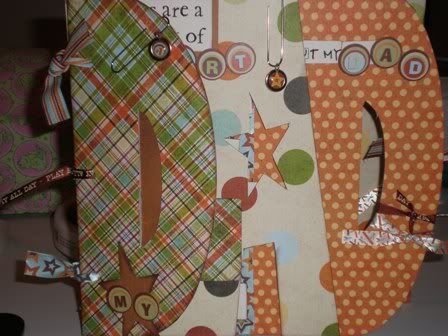 Until next time!
~Cassandra~