On May 28th, I held a May Flowers Project Class and I had a fantastic time. It was a bit time consuming but the class was a great success.

The original idea came from a fellow CTMH Consultant, Michelle Auten. I tweeked a few of the measurements and ended up embossing the Picket Fence with my Cuttlebug then inking them with my Bamboo inkpad. These are so addicting and I'll be creating a few more this weekend!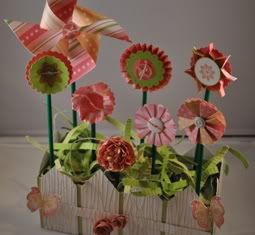 Can you tell that I'm a huge fan of our Sophia Level 2 Paper Pack? I can't seem to get enough...good thing the new Idea Book comes out in August so my customers don't get sick of using Sophia at my project classes!
Until next time!