It is still a work in progress, but I think I've got just about everything I could possibly need (aside from more room). My Scraproom is located in our large Den but I share it with my boyfriend's computer desk and my daughter's computer desk so it doesn't seem so large anymore (my corner by far takes up the most room...lol).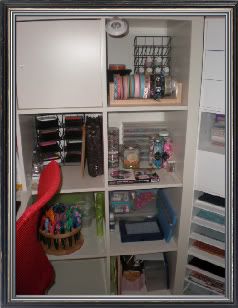 Where did my items come from?
I purchased the desk, cube shelf that is connected to the desk, and the 2 bookshelves from Ikea. The white paper sorter and drawers were purchased from either Target or Micheal's (depending on which place I had coupons for and which places had sales). I also used a variety of Cropper Hopper items to assist in sorting and organizing (i.e. stamp holder, paper holder, sticker sorter, page planner). I also use another sorter from Target underneath my desk that has 12x12 drawers with individual lids, it is great for keeping the dust out. I recently put up a Clip It Up Wall Arm but I haven't figured out what to put in the pockets yet. I'd like to paint the room a neutral color and then put up some Wall Words/Phrases. I'll probably get to all of that once I clean out the room in preparation for new flooring (probably hardwood).
Until next time...
~Cassandra~